Plugged or Unplugged? Managing Cell Phone Use at Your Wedding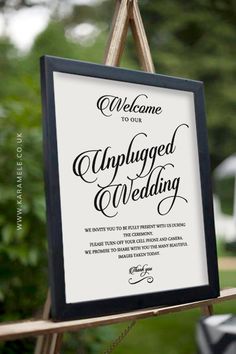 Imagine you're in the wedding spot of your dreams, face to face with your beloved, against a spectacular backdrop of beach or mountains. You're surrounded by your closest friends and family. And surrounded by a forest of flashing cell phones as half your guests try to capture every second of your dream wedding for Instagram, Twitter and Facebook.
If that sounds perfect, you don't need to read any more. However, if you're concerned about guests thoughtlessly disrupting your big day with their electronic devices, here are our best tips on managing device use without offending your guests.
1. Decide well in advance what kind of device use you want to allow.
Most people these days need only a reminder to turn off their ringtones and not make calls during an event like a wedding. But what about texting and social media, and especially photography? Do you want to let guests take pictures during certain parts of the festivities, but not others? Do you want them to put off sharing their wedding pictures on social media, until you have had a chance to share yours? Do you want them to just put their phones away during the whole celebration, so that they are really present with you, and not distracted by their phones?
Discuss this with your professional photographer and your officiant, as well as your wedding planner, if you have one. They may have rules of their own, and they will certainly be able to give you good advice on how much cell phone use is ideal for your event.
2. Let your guests know how you want them to behave.
Before the big day, you can post your cell phone rules on your wedding website or Facebook page. If you're sending information to guests, especially for a destination wedding, include a little handout of your cell phone and device rules or requests.
At the ceremony, you might have a placard at the door or a card in the program, reminding guests of your requests. Often, though, it's most effective to have the officiant give a brief reminder before the ceremony starts. His or her authority over the ceremony generally carries a lot of weight.
At the reception, you can have your emcee or DJ, or even the best man or one of the parents begin with a quick reminder.
3. Make it a positive request, not a Bridezilla one!
Guests can get upset at the idea that they will not be allowed to use their devices at all. So be sure to frame your request in positive and welcoming terms. Remind them that this is a very special day for you, and you want them to participate with their own eyes and ears and memories, not through the screen of their cell phone. Then tell them what you would like them to do and to avoid doing.
And make sure your rules are reasonable. Asking guests to turn off the ringtone or avoid blocking the view of other guests while snapping pictures is reasonable. Even asking them to put away their phones for the evening is reasonable if you explain why you want an unplugged wedding. Making your guests hand over their phones for the duration is not reasonable unless you're an A list movie star!
4. Designate a cell phone wrangler.
Even with all the reminders, it's common that one or two guests might ignore the rules, or common courtesy to the other guests. But the last thing you want to do as the bridal couple is act as cell phone police. And wedding staff may not be the best choice to remind Uncle Bob that he's being too intrusive with his picture taking.
Instead, ask a member of your family or wedding party to take the initiative, and quietly remind offenders of your request. Pick someone who is respected and liked and who can do so in a friendly way, but with clear authority.
Some of the most popular rules to minimize cell phone distraction:
Turn off or put away all devices during the ceremony.
Turn off ringtones and flashes for the entire event – flashes especially can ruin your professional photographs, as well as distracting everyone.
No photography while the photographer is taking posed photos (most photographers will have this rule anyway).
Do not block the view of other guests or the photographer to take personal photos or video. This can include both standing in the way, and holding up cellphones to shoot over the heads of people in front, which blocks the view of people behind.
Let the bridal couple be the first to share wedding pictures on social media. It's your big day, so, your guests can wait to post their pictures until after you have made the big reveals of the dress, the tuxes, the venue and all.
And most important – follow your own rules. If you want your guests to stay unplugged, don't be updating your Twitter feed all evening!
Plugged or unplugged, a little planning can help you and your guests enjoy a celebration with as much or as little electronic presence as you want.