Tipsy Traveler
When your dream honeymoon is a palapa on a beautiful Caribbean beach, one of the essentials for the day is a great Caribbean drink. After the stress of the wedding a beautiful beach is just the most relaxing place to be and a cocktail just makes everything better.
From time to time, we post some of our favorite adult beverage recipes on our Facebook page.
Below is one of our favorites: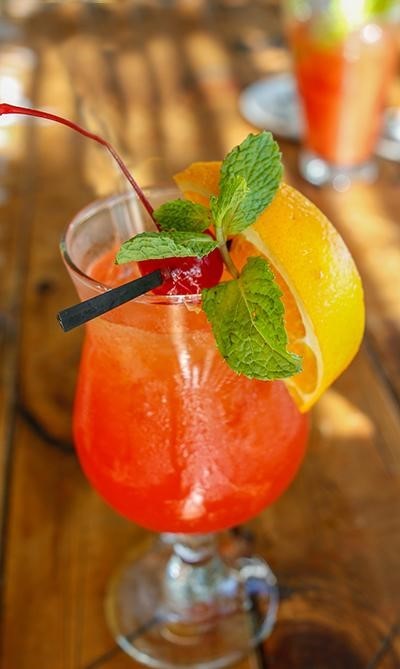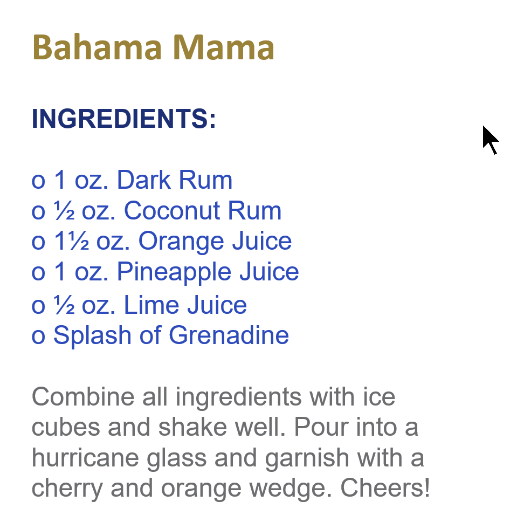 The Bahama Mama is an old favorite.
This brightly colored sugar rush is like a tropical vacation in drink form. Depending on how much rum you decide to add, it can be a little more on sweet side once you add the pineapple juice. Adding soda gives it a slight fizz, making it a great option for those who aren't really into the flavor of hard alcohol.
The original recipe blends the flavors of pineapple juice, coconut and a touch of coffee with two types of rum. Bartenders have taken a few liberties and stopped adding the coffee liquor, for other juices. Bartenders and many recipe books have dumped the quarter ounce of coffee liqueur it calls for and made other small changes.
Coffee liqueur is the not-so-secret ingredient that sets this cocktail apart and seems to have gotten lost in many modern recipes due to years of bartenders serving any sort of ad hoc fruit punch to customers who ask for one. But the classic Bahama Mama is an astonishingly well-balanced and delicious concoction based on the seemingly ill-matched combination of pineapple, coconut and coffee.
Come check out our posts on Facebook: https://www.facebook.com/dwhplanners/